Scalp Micropigmentation is a method of placing pigment into the scalp, that helps to mask hair loss. While usually most effective for men who prefer the shaved head look, it can, however, also be used to subtly mask areas of the scalp that have lost hair coverage.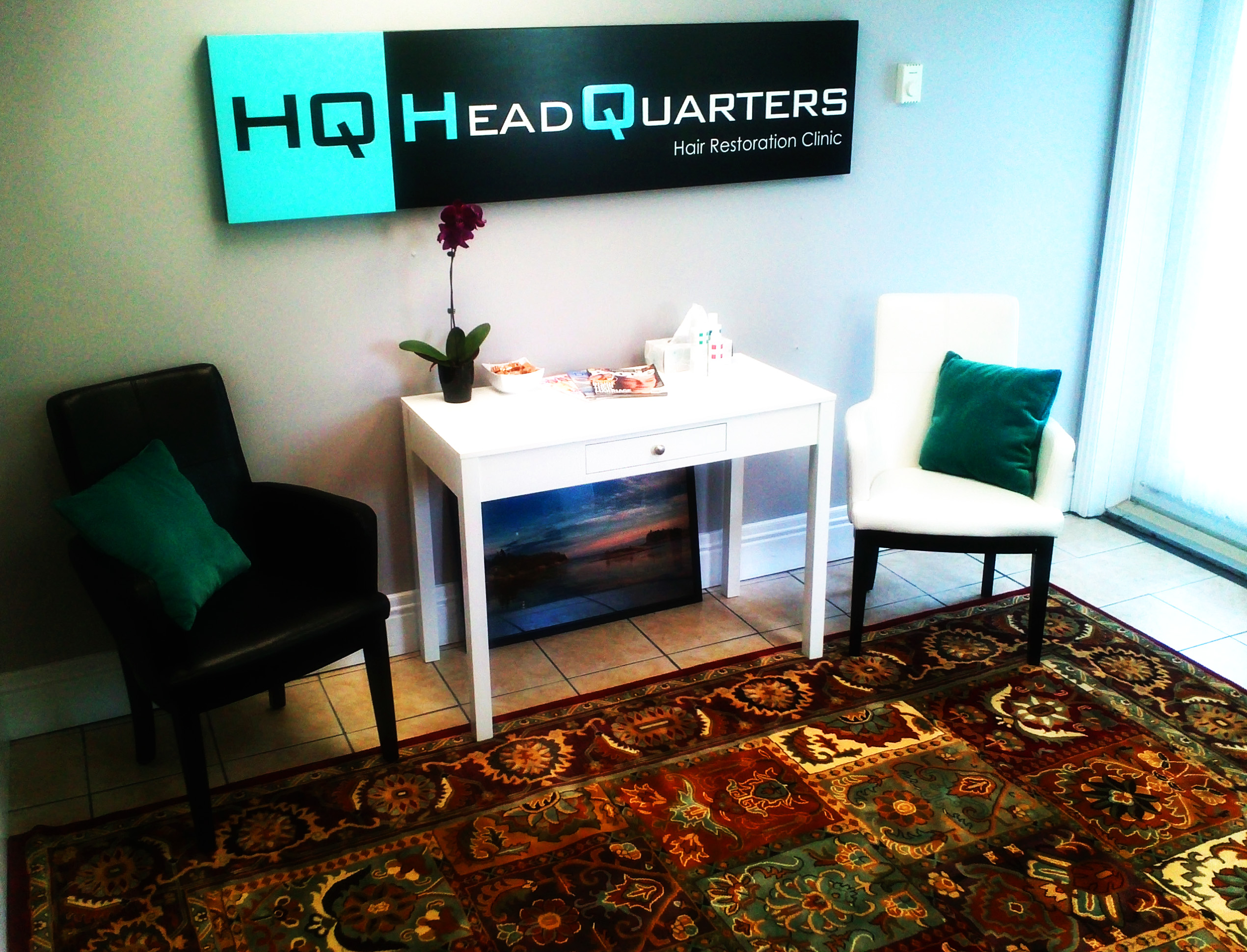 Our method is regarded as the best treatment of its kind in the world today. 
Here is how it works: very simply natural pigments are applied into the scalp using specialized equipment and needles. 
Micropigmentation can be used to cover the whole scalp, mask receding hairlines, hide scars and bald spots.
At HQ, in Bedford, Nova Scotia, our Clinic staff of 15 years experience, will be happy to perform the procedure. If you are interested, please come in a for a free consultation.
To those of you ….. who could appreciate more information about Scalp Micropigmentation (hereafter: SMP), …… SMP procedures have been meticulously developed and when these techniques are practiced by skilled professionals the results are an undetectable camouflage which completely disguises hair loss. SMP should be a practical – technical and artistic procedure of reestablishing a hairline which may have receded, resulting in the appearance of increased density in places where hair is actually thinning.

In the event of scars which may exist as a result of previous hair transplant surgery experiences, the reader may be pleased to know that SMP is also effective in disguising these.

Scalp Micropigmentation is the ultimate non-surgical male and female life-changing experience …… whereby natural pigments are inserted into the dermal level of the scalp which then replicates the natural appearance of real hair follicles and or hair shafts (as each case may require) – depending on your hair loss extent, and or the desired look.

Our method is regarded as the best treatment of its kind available in the world today, using the best pigments and procedure methods. When applied by our skilled practitioners, these deposits replicate the look of real shaven hair. We are fully experienced (fifteen years) and for these reasons qualified as permanent cosmetics and micro pigmentation treatment professionals who (for example) recognize that your follicles don't always naturally grow in the same direction, our team will thoroughly examine study and then dutifully replicate the natural eddies and idiosyncrasies of your hair pattern. We also understand that your hair follicles are not all the same size or shade, our team frequently use 3-4 shades of pigment to create the most realistic finish – giving a younger more confident hairline.

Scalp Micropigmentation is suitable for all types and stages of hair loss, of all ages, colors, and skin types.

Facts are human heads have on average about 2,000 hairs per square inch. When thinning occurs, emotionally ……. it can be a depressing time, and because of the age-old established stigmas associated with balding …. such as premature aging in both men and women, this likely affects anyone's confidence and mood. Scalp Micropigmentation restores even a completely bald head to appear like a full head of closely shaven hair.

The complete Scalp Micropigmentation follicle/hair shaft repopulation procedures usually require 3 sessions, each a duration of approx 2-4 hours with at least 6 weeks between sessions to properly heal before continuing with the finer detailing. When completed the effects will last for at least ten years without noticeable fading, however, in time, should a little rejuvenation be desired this will always be possible.

Our practitioners have unrivaled references and our many years of experience combined with our artistic skill set offer an experience of perfection for our clients.

What can SMP accomplish for you?

Our meticulous Scalp Micropigmentation procedures will most certainly:
Give the look of a full, youthful head of cropped hair; 
Simulate a full-front, side and/or rear hairline; 
Restore hairlines on part-bald or fully bald heads; 
Camouflage – permanently – the symptoms of all levels of alopecia; 
Camouflage scarring resulting from previous hair transplant surgery; 
Hide scars, burns, and birthmarks; 
Complete the visual effect of a hair transplant. 

Scalp Micropigmentation for Crown Balding

Crown balding is one of the most common types of degenerative hair thinning and balding, usually making sufferers look older than their years and affecting self-confidence. Our treatment will rejuvenate the look of the crown, giving a completely realistic hairline and the ease of top-up treatment makes it visually compatible and or ideal for incidents of slow crown thinning and balding.

Scalp Micropigmentation for Hairline Receding

Balding men are in general agreement that baldness is a nuisance but they rarely agree on which is worse; crown balding pattern or receding. With Scalp Micropigmentation is no longer debatable; Scalp Micropigmentation will absolutely camouflage wherever your area of concern is, leaving you with a cropped, strong and attractive hairline.

Scalp Micropigmentation for Complete or Near Complete Hair Loss

Micro Pigmentation is often the ideal solution for clients who have suffered complete hair-loss. We are proud to be part of the solution which we have seen restore self-esteem in all ages of clients. We appreciate that we sometimes hear Scalp Micropigmentation referred to as:
"a hairline time machine"!

Scalp Micropigmentation for Alopecia

Many sufferers of alopecia come to us. Scalp Micropigmentation has provided us with the method to satisfy their desires and restore their self-esteem.

Scalp Micropigmentation for Women

Approximately 5% of the female population suffer from hair loss/thinning conditions; for the ladies we are pleased to confirm that we do indeed carry out exactly the same treatment for women who well be able to have the choice of short or longer hair, because even with 'long hair' styles, the micro-pigmented areas will be much less noticeable than having sections of obvious shiny and light reflective bare scalp areas. SMP can be ideal as a permanent concealment treatment for female hair loss as women generally have defused thinning across the entire head. Simply put Scalp MicroPigmentation can successfully eliminate the extreme contrast between the thinning areas on the scalp and any remaining hair,

Scalp Micropigmentation for diffused hair loss

Diffuse hair loss can affect both sexes at any age and can be caused by anything that interrupts the normal hair cycle, including emotional stress, nutritional deficiencies, and endocrine imbalances. It can be a stressful event for any man or woman, and Scalp Micropigmentation is an incredibly effective solution, restoring confidence and looks.

Skin Type and Colour

Scalp Micropigmentation is suited to all skin types and colors, Caucasian, Afro-Caribbean, Latino, Asian and mixed-race. Our artistic expertise allows us to precisely match your follicle color to provide a seamless, invisible blended match with any existing hair.